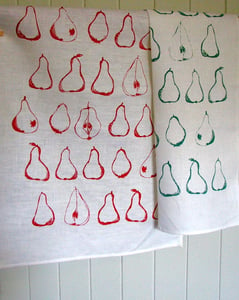 $

22.00
How delicious! This design, 'Pear Shaped', was originally hand drawn by Ellie Beck. Brighten up your kitchen with this yummy tea towel, in either juicy green or tasty red.
100% linen tea towel. Hand screen printed in Australia, using water-based, solvent free inks. 50 x 70cm (approx) this is a generously sized tea towel. Linen is the most absorbent fabric for drying your wet dishes, and lasts for many many years of kitchen duty.
We've been told our tea towels are too beautiful to use, many of our customers frame them to look at on their walls. We say let's raise the mundane daily duties by using beautiful, handcrafted, lovingly designed items!